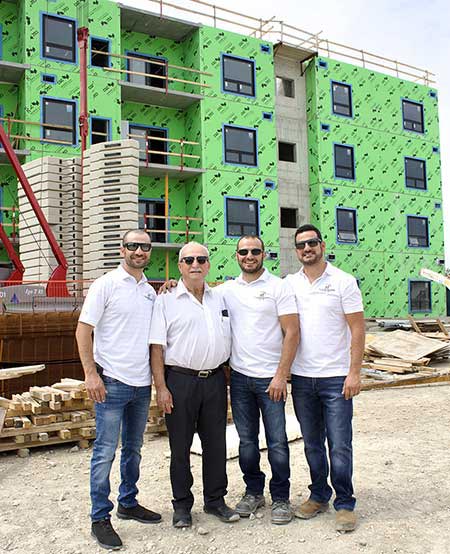 Founder Abdul Aziz Habib (Abe) immigrated to Canada over 40 years ago. He travelled to a new country with a few hundred dollars, a strong work ethic and determination to succeed in life. It was a difficult start but eventually he was able to secure a job with Chrysler Canada where he stayed and worked for over 29 years until retirement. Abe also worked for many years with Royal Cabinet Makers where he was a part owner.
In 2000, Abe founded Habib Homes and began transforming vacant lots into quality custom homes creating employment and growth in local communities. Into the company's second generation, sons Haider, Steve & Michael continue to grow the company, now known as HD development group.
We have been proudly offering custom quality homes to Ontario new home buyers for over 30 years. We are a second generation builder with a proven track record and over 750 homes built. We specialize in a variety of home styles, from one floor bungalows, two stories to custom executive estates. We take pride in the work we complete and only use reputable trades people, top materials and designers to achieve the highest standards of quality.
The HD team has grown over the years however still remains a family owned company. The four pillars of our initial success being Honesty, Integrity, Quality and Value are still present in our company culture to this day. Every home buyer is treated with the utmost respect and the customer experience is at the forefront of everything we do. We believe in going over and above customer expectations and every home is built with the care and attention you would expect from a quality builder. Our recent partnership with the Holmes Approved Home program is an example of our desire to offer our customers an even better product and higher level of piece of mind.
HD development group searches for locations that provide nearby full service amenities and natural surroundings to build their homes. Experience the difference quality workmanship makes. Experience exceptional customer service.
What Our Clients Have Said...
"Compared to other builders we had showings with, HD development groups' style, design and craftsmanship were the best. We further worked with Steve Habib and his team to finish the basement prior to our move-in. Steve was incredibly professional, knowledgeable and easy to work with. I would highly recommend HD development group to anyone looking for their dream home."
"I am very impressed with the professionalism I have witnessed when dealing with HD Development. The company and employees truly understand customer satisfaction. They build beautiful quality homes- this is definitely the builder and designer that you want to work with!"
"Awesome experience with HD development group. Couldn't be happier. Quickly answers all questions and concerns after the finish. Highly recommend HD development group to anyone looking to build a new home."
At HD development group, we build relationships. Our aim is to provide our customers with an enjoyable home building experience and a quality product that we are proud of.  You can rest assured that your best interests are at the core of the entire process of building your new home. We think outside the confines of conventional building to bring you a quality product built by quality people.
The HD Team offers a range of creative solutions harnessed by a rich background in the residential construction industry, real estate and business. Your home comes together through our enthusiastic and talented trades people, working every day to be a part of creating some of the best built homes in all our communities.
We build each home as if it were our own
We believe in above-average customer service
Quality is never, ever, sacraficed for anything else
We are committed to a standard of excellence
We effectively allocate time for uniquely designed concepts
Our customers will recieve feedback on their ideas immediately
Our customers concerns are at the core of the home building process